NT-Ice.com
> ClearChoice Replacement for Single Head Everpure 4CB5 / EV9617-11
ClearChoice Replacement for Single Head Everpure 4CB5 / EV9617-11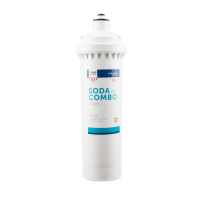 Click to Zoom
(3 more images)
| | |
| --- | --- |
| MFG: | ClearChoice |
| MFG#: | CCB005 |
| Our#: | 184670 |

Merchant Services
NT-Ice.com Price:
$32.54
Regular
$72.99
,
You Save $40.45 (55%)
In Stock
Volume Pricing
You Save
1
$32.54 ea.
2 - 5
$30.91 ea.
$1.63 ea. (5%)
6 - 11
$29.29 ea.
$3.25 ea. (10%)
12+
$27.66 ea.
$4.88 ea. (15%)
***This filter will only work in Single Head systems***. For Manifold Systems, see our high capacity 7CB5 replacement https://www.discountfilters.com/commercial-water-filters/clearchoice-ccb006/p184708/
Reduces particles as small as 5 micron, removing contaminants and impurities such as chlorine and other volatile compounds, leaving finely polished, better tasting water. Built in Pre-filter prevents premature fouling.
*The contaminants or other substances removed or reduced by this drinking water system are not necessarily in your water. Do not use with water that is microbiologically unsafe or of unknown quality without adequate disinfection before or after the system. Systems certified for cyst reduction may be used with disinfected water that may contain filterable cysts.
ClearChoice filters use ultra-fine, high capacity activated carbon that always meets or exceeds OEM specifications in a more compact filter.
Everpure® is a registered trademark of Everpure Inc. Northbrook, IL. - National Trade Supply, Inc, DiscountFilters.com and ClearChoice are not affiliated with Everpure® Inc. Northwood, IL