NT-Ice.com
> Cuno Aqua-Pure DF290-CL Cartridge Pack
Cuno Aqua-Pure DF290-CL Cartridge Pack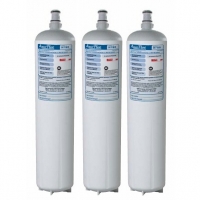 Click to Zoom
| | |
| --- | --- |
| MFG: | Cuno |
| MFG#: | 56138-07 |
| Our#: | 173602 |
Cuno Aqua-Pure DF290-CL Cartridge Pack
Includes 2 HF90 Cartridges and 1 HF90-S-SR Cartridge
The Aqua-Pure® DF290-CL Dual-Flow water filtration systems assure consistent high-quality water for the multiple applications of cold beverages and ice at a combined flow rate of up to 7.66 gpm (29.1 lpm). Two separate streams exit the manifold. The first stream (STREAM ONE) supplies cold beverage applications. The
second stream (STREAM TWO) supplies the ice machine.
STREAM ONE combines cyst, bacteria, chloramine, chlorine taste and odor, and sediment reduction for a total volume up to 30,000 gallons (113,563 liters) at a flow rate up to 2.66 gpm (10.2 lpm).
STREAM TWO reduces cyst, bacteria, and sediment. The flow rate is up to 5 gpm (18.9 lpm), and the life is 30,000 gallons (113,563 liters). Chloramine and/or Chlorine are not removed from this stream to preserve their disinfectant properties. A scale-inhibition medium is added to reduce the hard-scale effects
of calcium and magnesium ions.