NT-Ice.com
> AuCS-SI-161 Automatic Cleaning System 115V
AuCS-SI-161 Automatic Cleaning System 115V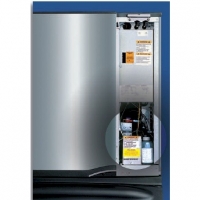 Click to Zoom
| | |
| --- | --- |
| MFG: | Manitowoc |
| MFG#: | AuCS-SI-161 |
| Our#: | 173638 |

Merchant Services
NT-Ice.com Price:
$467.06
Regular
$637.00
,
You Save $169.94 (27%)
1 Week To Ship
AuCS-SI-161 Automatic Cleaning System 115V
An efficient, dependable, and affordable accessory that schedules and performs routine ice machine cleaning automatically.
The innovative AuCS® accessory virtually eliminates the need to have a service technician perform manual cleaning procedures
on the water distribution system of your Manitowoc ice machine. It is a known fact that regularly scheduled
preventative maintenance (cleaning) reduces the total operating cost of any ice machine. With AuCS, you simply select the cleaning
frequency (2, 4, or 12 weeks); AuCS does the rest...automatically. AuCS is also affordable, as
the entire system costs less than the expense of 3 manual cleanings. AuCS-SI and AuCS-SO
are designed for use with only Manitowoc S-Series ice machines.
Cleaning or Sanitizing: The AuCS accessory can dispense either cleaner or sanitizer. It can not
dispense both at the same time. Refer to the Installation Use and Care Manual supplied with
the AuCS accessory to determine the type of solution needed and proper procedure for
changing solutions. Use only Manitowoc ice machine cleaner or sanitizer.
Cleaner is used to remove and control build up of lime scale or other mineral deposits.
Sanitizer is used to control algae (slime) and other air borne bacteria (yeast).
AuCS - SI
Internally mounted on S-Series Manitowoc ice machines.
Electricity drawn directly from ice machine.
Can be ordered separately or installed at the factory for no additional cost.